The Woltz Mansion was a large, almost palatial mansion located just outside of Hollywood California, owned by Jack Woltz. It included a large swimming pool and stable where Woltz housed his prize race horse, Khartoum.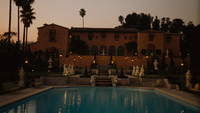 In 1945, Woltz refused to make a deal with the Corleone family from New York City who responded by sending Luca Brasi to sneak into his compound after hours and beheading Khartoum before leaving the head in Woltz's bed. Woltz agreed to the Corleones terms, but security was tightened to breaking point after this event. Khartoum was quietly buried some way from the house.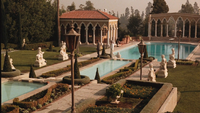 Woltz also housed in his mansion a great deal of art believed to have been stolen from the Jews by the Nazis during the war. He was prone to holding enormous parties on the backlot, particularly after he married former star Vickie Adair.
Behind the scenes
The Beverly Hills estate of William Randolph Hearst was used as the exterior of the mansion. However, Coppola used the Guggenheim estate on Long Island for the mansion's interior.[1]
Notes and references