"The Vito Corleone Foundation helps the poor in every country, gives grants to artists, funds medical research, and is particularly dedicated to the resurrection of Sicily."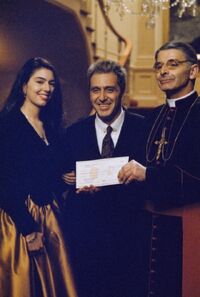 The Vito Corleone Foundation was a foundation started by Michael Corleone some time after 1959 and named in honor of his father Vito Corleone. It was chaired by Michael's daughter Mary Corleone, who was more of a front for the criminal activities associated with the foundation, which also provided most of its funding.
It was a charitable organization which was particularly dedicated to reviving Sicily.[1]
In 1979, the foundation gave archbishop Gilday a check for a 100 million dollars in the name of Vito Corleone, to assist in the economic resurrection of Sicily. It also received a donation from Don Altobello for one million dollars so he could attach his name to the foundation.[1]
Francesca Corleone, Michael's niece, also helped with the foundation for a time.[2]
References
Community content is available under
CC-BY-SA
unless otherwise noted.