September 2012 - March 2013
Featured article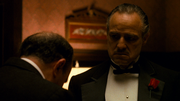 Don Vito Corleone (Born Vito Andolini) was the founder and former head of the Corleone family.
Vito was born in the small Sicilian village of Corleone to Antonio Andolini. Andolini was murdered by a Sicilian Don named Don Ciccio because he refused to pay tribute to him. His older brother, Paolo, swore revenge, but was himself murdered soon after; Paolo's murder was timed with the ultimate insult: during the funeral procession for his father. Eventually, Don Ciccio's henchmen came to the residence of the Andolinis to take Vito away and have him killed as well. Desperate, Signora Andolini took her son to see the Mafia chieftain herself.
When she went to see Don Ciccio, she begged for forgiveness, but Don Ciccio refused, reasoning that the younger boy Vito would also seek revenge as an adult. Upon Don Ciccio's refusal, Signora Andolini put a knife to his throat, allowing her son to escape at the expense of her own life. Later that night, he was smuggled away, fleeing Sicily to seek refuge in
America
on a cargo ship full of immigrants. Unable to speak English, he was renamed on
Ellis Island
as Vito Corleone when the immigration clerks saw the tag pinned to his clothes labelled "Vito Andolini from Corleone". (
Read more...
)
March - June 2013
Featured article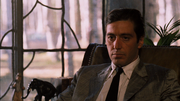 Don Michael Corleone was the head of the Corleone family following the demise of his father.
Born in 1920, to Vito and Carmela Corleone, Michael was deeply loved by his father, even prompting Vito to murder blackmailer Don Fanucci so he could support Michael and the rest of his family. He became a bright and handsome young man, and of all of Vito Corleone's children, Michael was said to be most like him in terms of intelligence, personality, and cunning.
Michael initially wanted nothing to do with the Corleone's "family business," and enrolled at
Dartmouth College
in order to escape it. In truth, his father never wanted Michael to be involved in the family's criminal enterprise, and actually hoped he'd go into politics. After the
United States
' entry into
World War II
in
1941
, he enlisted in the
Marines
(training under
Sergeant Bradshaw
) and fought in the Pacific, even though his father had expended great effort to wrangle a deferment for him. For his bravery in battle, Michael was awarded the Navy Cross, he was also featured in Life magazine in
1944
. Michael was discharged as a Captain to recover from wounds- along with friend
Hank Vogelsong
- in
1945
(unbeknownst to him, the doctor treating him had been bribed by his father to exaggerate his injury in order to send him home). Returning to Dartmouth, he met a young teaching student,
Kay Adams
; the two fell in love. He assured Kay on numerous occasions that he wanted a more normal life, and wanted nothing at all to do with the
Mafia
. (
Read more...
)
June - July 2013
Featured article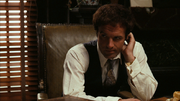 Santino "Sonny" Corleone was the eldest of the Corleone children, known for his temper, compulsive aggression, and rash decisions.
Sonny was the oldest, most impulsive and violent of Vito's sons and, before Michael's rise to power, the most involved in the Corleone crime family. It was he who was supposed to head the family business after the death of Vito. Vito always blamed himself for this, as the boy saw his father murder Don Fanucci, and so the Don would look like a hypocrite if he lectured Sonny against criminal acts. Sonny is not without a softer side, however; while 10, he met a homeless boy, Tom Hagen, who thereafter lived with the family. He also acted as a protector to his younger siblings, especially Connie due to the traditional fierce Sicilian affection for sisters. He once beat Carlo nearly to death for hurting her.
As a teenager, Sonny witnessed the murder of Henry Hagen by his father, and soon after became a stick-up artist along with his friend Bobby Corcoran and their gang. He also began an affair with Bobby's elder widowed sister Eileen.
When the Corleones first moved to Long Beach, there was an incident with three furnace inspectors who tried to pull a scam on Don Corleone's house, and Sonny was told by his father to deal with it. His father was secretly testing his son on how he'd handle the problem, but the result did not altogether please Vito. After beating the workmen, forcing them to repair the damage they did, and throwing them out at gunpoint, Sonny called the home-improvement firm they worked for and threatened the owner to not send any more "inspectors" into the Long Beach area again. This was frowned upon by his father as being too violent an action, saying that his son must be 'the rapier, not the club'. (
Read more...
)
July - August 2013
Featured article
Frederico "Fredo" Corleone was the middle Corleone brother.
Fredo was born to Vito and Carmela Corleone in 1919. In his youth he was a sickly child, contracting pneumonia as a baby. Growing up, he was an agressive young man, despite briefly wishing to become a priest after meeting Father Stefano, but it was believed that Stefano molested him. As an adult he was seen as the weakest of the three brothers and was given relatively unimportant business to run. However, he was also known as a charismatic young man, and was usually sent to pick important people up at the airport and entertain them before business meetings.
He served as his father's driver (after Paulie Gatto called in sick) when Virgil Sollozzo's men attempted to kill his father, Fredo fumbled with his gun and was unable to retaliate, dropping to his knees and sobbing.
Fredo later moved to
Las Vegas
and was taken by
Moe Greene
as a favor to the family, who were funded by
Anthony Molinari
from the West Coast. When Moe refused to sell out to
Michael
, Fredo attempted to defend him and was told never to side against the family again. Greene was later killed in 1955. Fredo's behavior in Vegas was considered embarassing, largely because of his notorious sexual habit of impregnating showgirls and prostitutes. (
Read more...
)
August - September 2013
Featured article
Costanza 'Connie' Corleone-Rizzi is the daughter of Don Vito Corleone and Carmela Corleone, and sister of Sonny, Fredo and Michael Corleone.
Connie is the youngest child, and only daughter, of Vito and Carmela Corleone. She was a twin, but her other died in the womb, something that only the closest members of the Corleone family knew about, as well as her godfather, Osvaldo Altobello. Being the only girl in her family, Connie was spoiled, having her own pony at a young age. She was one of the few people able to convince Vito, as seen when she requested Michael have corrective surgery to fix his broken jaw.
She was introduced to
Carlo Rizzi
, a former labourer from
Nevada
and friend of her brother
Sonny
, during a surprise birthday party for Vito in
1941
. She married him at a lavish old-style Sicilian ceremony in
1945
. Carlo and Connie agreed to the ceremony due to her father's displeasure in her choice of groom (he was not only a hoodlum, but half-northern Italian). They moved into an apartment in
Hell's Kitchen
. (
Read more...
)
September - October 2013
Featured article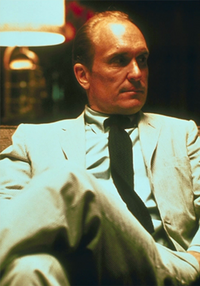 Thomas Feargal "Tom" Hagen was the Corleone family consigliere and lawyer and informally adopted son of Vito Corleone.
Thomas Hagen was the son of Martin and Bridget Hagen. Martin was a hard-working carpenter who had never done a dishonest thing in his life, but he was also a violent alcoholic. When Hagen was ten years old, his mother Bridget caught an eye infection that resulted in blindness, and died soon after from venereal disease. Torn up with grief, his father became a hopeless drunkard and a few months later Martin Hagen drank himself to death. Hagen and his sister were stuck in an orphanage, but Hagen ran away. The sister ended up in a foster home, but the social agencies of the time did not follow up on Hagen's case. Hagen lived on the streets for more than a year.
Hagen encountered the young
Sonny Corleone
and two older boys when they wandered into a dangerous alley in the Irish part of
Hell's Kitchen
, an alley in which Hagen was hiding. They encountered a man selling switchblades and tried to buy one. The man pulled a knife and dragged Sonny into the alley, while the other two boys ran. Hagen grabbed a board with a nail sticking out of it and brought it down on the back of the man's head, impaling and killing him. Sonny and Hagen looked at each other and laughed nearly to the point of tears. They introduced themselves to each other, and walked away from the alley together, arms looped around each other's shoulders. Sonny asked about the eye infection, and about Hagen's parents. Hagen just said his mother was dead and his father was gone. Sonny took him home and persuaded his father to take him into the family. Although the
Don
never formally adopted him, thinking that this would have been an act of disrespect to Hagen's parents, Hagen thought of
Vito Corleone
as his true father. In many ways, Vito's adoption of the street urchin Hagen paralleled how Vito himself was taken in by
Signor Abbandando
when he was a child. (
Read more...
)
October - November 2013
Featured article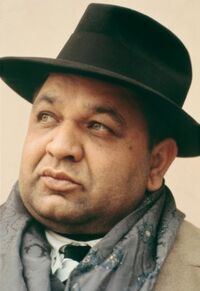 Peter "Fat Pete" Clemenza was one of the two original caporegimes in the Corleone family (the other being Salvatore Tessio), ruling over the family's territory in The Bronx.
Clemenza was born near Trapani, Sicily, and emigrated to America at an early age, moving into Hell's Kitchen in New York and leaving behind his brother Domenico, who would become a Mafia boss in Trapani. He swiftly became friends with another savvy youth, Salvatore Tessio. He became known as a suave yet violent presence in the neighborhood, ruthless in the protection of his property and his businesses. For this, he became of interest to Don Fanucci, but Clemenza rejected the idea of having a 'boss', and Fanucci let him go. Clemenza instead turned his sights toward mentoring the Corleone youth.
Clemenza became a friend of
Vito Corleone
after immigrating from Sicily. As a young man, Vito held a blanket of guns for him to prevent their discovery by the police. Clemenza repaid this favor by stealing a rug for Vito's family, with the unwilling Vito's help, thus facilitating the future godfather's first introduction to the rewards of crime. Their roles were later reversed when Vito killed Don Fanucci, establishing him as the group's leader. Friendly and jovial, Clemenza was known as a storyteller among many of his acquaintances and family members - a trait that endeared him to Vito, who loved listening to storytellers. Peter Clemenza got his start selling stolen goods such as dresses and guns with Vito and
Tessio
as far back as
1917
, and became a key figure in the growing Corleone family. Vito kept him close through the years - even making him
godfather
to his oldest son
Santino
. (
Read more...
)
November - December 2013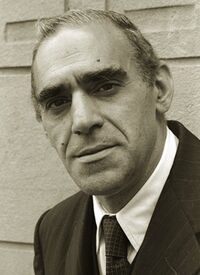 Salvatore Tessio was one of Don Vito Corleone's caporegimes, ruling over the family's territory in Brooklyn.
A Sicilian born youth raised New York, Tessio married his wife Lucille in 1908.
Tessio began with his friends Peter Clemenza and Vito Corleone as low-level hoodlums in New York City's Little Italy. He was already known in the neighbourhood as being both savvy and dangerous, and yet, he had connections from an early age, being good friends with gunsmith Augustino Coppola.
When the three owed money to Don Fanucci, Tessio was the first to concede with Vito's plan of giving the Don considerably less than they had agreed. Shortly after, both men understood that Fanucci had been murdered by Vito, but never mentioned it to him.
It was Tessio who played a major part in the Olive Oil War, personally executing enemy Don, Giuseppe Mariposa. As Vito rose to prominence in the Mafia underworld, Tessio and Clemenza rose with him, each eventually settling into the Caporegime roles. However, Vito informed the two men not to meet together socially, telling them it was a security precaution. Tessio understood immediately that it was merely to prevent the two from plotting against their boss and complied. He was present at Vito Corleone's surprise birthday party in 1941, having supplied the cake.
Tessio owned a social club in
Brooklyn
and made it his base of operations. From there, he managed his soldiers and was very well-connected throughout the borough. Most federal investigators considered Tessio the smarter and savvier of the two capos, though he had mellowed considerably in the decade of peace since the Olive Oil War. In fact, many groups believed that Tessio ran a separate organisation. This was used to the family's advantage several times. (
Read more...
)
Community content is available under
CC-BY-SA
unless otherwise noted.