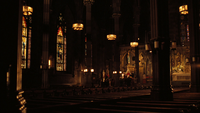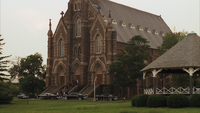 The Basilica of Saint Patrick's Old Cathedral or Old St. Patrick's Cathedral, is a Roman Catholic Basilica located in New York City. It is located at 260-264 Mulberry Street between Prince and Houston Streets in Manhattan. The church was built in 1809, and served as the Cathedral parish for the New York Diocese until the current Cathedral was built in 1879.
It was known to be the prefered church of the Corleone family, who used it for their various celebrations, including the baptism of Michael Rizzi in 1955.
In 1979, Archbishop Gilday bestowed one of the Church's highest honors, the Order of St. Sebastian, on Michael Corleone at a ceremony at Old St. Patrick's Cathedral.
History:
The Corleone Family comes to worship at this Catholic church, which is conveniently located next to Bonasera's funeral home. Find a health remedy at the confessional. There is also an underground crypt, accessed via a side passage.
Behind the Scenes
For the baptism, the interior church scenes in The Godfather were filmed at Old St. Patrick's. The exterior scenes were filmed at the Church of St. Joachim and St. Anne in the Pleasant Plains section of Staten Island, New York.[1][2]
Notes and references
External links
Community content is available under
CC-BY-SA
unless otherwise noted.