This article is non-canon.
This article covers a subject that has been deemed non-canon by either the creator or the The Godfather licensees, and thus should not be taken as a part of the "real" The Godfather universe.
"Godfather, my husband was always loyal to you. He died for that loyalty."
―Serafina Trapani
Serafina Trapani was the mother of Aldo Trapani.
Biography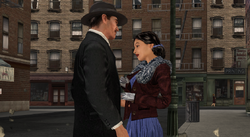 Serafina was the wife of Johnny Trapani, a member of the Corleone crime family. The two also had a son named Aldo who she often took care of. She also used to run an Italian bakery shop owned by Johnny named "Trapani's Bakery" in Little Italy, New York City.
At somepoint in 1936, Johnny was killed whilst picking her up to celebrate at the Continental Club, after earning a good amount of money for the week. Serafina had decided to leave Aldo in the care of her sister for the night.
However, her bakery was bombed and he was dragged into an alley by members the Barzini crime family while trying to find his son, who she thought was in the alley behind the bakery. Serafina tried to rush to his aid but was restrained by a Barzini gangster.
After her husband's murder, Serafina brought up Aldo by herself while Don Vito Corleone personally saw to it that her family didn't need anything. Her son however became a small-time criminal when he grew up.
At the wedding reception of Vito's daughter Connie, Serafina appeared before him and kissed his hand, before asking him to help her son escape from the Bowery Gang she thought were trouble and he was currently involved with. Vito sent Luca Brasi to deal with the matter.
It is unknown what became of Serafina, although it is known that her son, Aldo, became a powerful member of the Corleone family. She was still alive when he died in 1959, and Michael Corleone made special care that provisions were made for her.
Behind the scenes
She was voiced by Sirenetta Leoni.
In the subtitles, her name is parsed as Sarafina, while in the strategy guide she is Serafina.
Community content is available under
CC-BY-SA
unless otherwise noted.