"I get plenty of rest when I die. My grandchildren keep me alive."
―Don Rossario
Rossario was the Don of the Rossario crime family.
Biography
A friend and ally of the Clericuzio family, he continued to take an active role in his family business well into his old age, despite several hospital visits|Don. At the sit down regarding the deaths of Athena Aquitane and Petie Clericuzio, he expressed his suspicions regarding Don Borgetto.
Rossario was assasinated whilst watching cartoons at the cinema with his grandson.
Personality and traits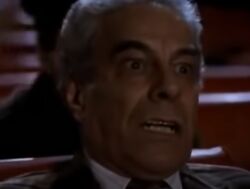 An amiable and genial man, he had great affection for his children and grandchildren, who he kept a picture of in his wallet. He harbored distrust for the Borgetto family, dismissing them as "Neopolitano", even though Borgetto was swift to remind him that only his wife had been from Naples.
Behind the scenes
He was portrayed by A. Frank Ruffo in The Last Don II.
Community content is available under
CC-BY-SA
unless otherwise noted.