"Have you given my daughter a package to remember you by now that the war is over and you know America will kick you back to your village full of shit in Sicily?"
―Nazorine
Nazorine the baker was an old friend of Vito Corleone.
Biography
An immigrant from Corleone, Sicily, and a childhood friend of Don Corleone, Nazorine ran a small bakery in Little Italy during the 1930s and 1940s along with his wife Filomena. He once had to call on his friend Don Corleone for assistance when the owner of furniture owed to Nazorine and his fiancee claimed bankrupcy without returning Nazorine's deposit. As with most matters, this was swiftly dealt with by Don Corleone.
Enzo and Katerina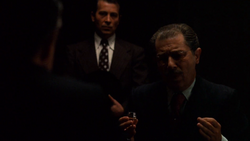 During the time of the war, Nazorine took on a Sicilian prisoner of war, Enzo Aguello, to help out in the shop. However, the young man fell deeply in love with with Nazorine's daughter Katherine, who was heartbroken when Enzo was to be sent home. Fearing that the two might elope, Nazorine called upon his old friend Don Vito Corleone to keep Enzo in the country. The Don did so, and Nazorine showed his gratitude by baking an enormous cake for Connie Corleone's wedding.
After Nazorine retired in the 1950s, Enzo took over his bakery and continued to prepare various desserts, cakes, and pastries for the Corleone family on special occasions, notably at Michael Corleone's party in 1979.
Behind the scenes
Nazorine was portrayed by Vito Scotti.
Community content is available under
CC-BY-SA
unless otherwise noted.