"I'll always love you."
"Love somebody else."
―Mary Corleone and Vincent Mancini
Mary Corleone was the second child and only daughter of Michael Corleone and Kay Adams.
Biography
Early Life
Mary had a more sheltered childhood compared to that of her brother, Anthony. Mary was born in New York City, but after the family moved to Nevada, she spent most of her early childhood in Lake Tahoe. Mary and Anthony grew up during a brutal period in their parents' relationship. As an adult, she would recall the night after Anthony's first communion in which Johnny Ola's men shot at the compound. Following the congressional investigation into the Corleone family, Kay had planned get a divorce and take Mary and Anthony away from Michael, an act that he refused to let transpire. After overhearing this fight between their parents, Anthony began to dislike his mother, while Mary still loved Kay and would spend time with her during the secret trips she made to the compound to visit her children, who Michael had prevented her from seeing after their divorce.[2]
At age eight, she attended a family wedding at which she met her cousin Vincent Mancini, who was fifteen at the time.
At some point in her childhood, Michael relinquished custody of Anthony and Mary to their mother Kay.
Adulthood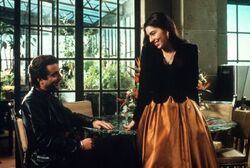 Following Michael's move to a legitimate business and the establishment of the Vito Corleone Foundation, Mary was established as the honorary chairman of the foundation, however, this was only a front imposed so that Michael could gain control of Immobiliare, a plot that Mary was unaware of. Although close to her father, Mary was sheltered from the violent world of the Corleone crime family, and she remained unaware of her family's criminal activities, unlike her brother Anthony. In 1979, however, she fell in love with her cousin Vincent Mancini, who was also Michael's hotheaded protégé and heir to the family business. Michael disapproved of the romance, believing her marriage to his successor would put Mary in danger. After being appointed Godfather in 1980, Vincent ends the relationship to protect her and become Don of the family, a decision Mary blamed her father for.
Death
Mary watched her brother Anthony perform the lead role in Cavalleria rusticana in Palermo, Sicily, after which, she pleaded with her father to allow her to see Vincent. Shortly after, she was accidentally killed after being shot in the chest by the assassin Mosca of Montelepre, who had been trying to kill Michael. Mary's death left Michael a broken man. Michael retired to Don Tommasino's house, where he died alone years later.
Personality
Although a kind and loving person, Mary was naive and sheltered, never finding out about the true nature of her family's business. In private, Michael admits to her a reason behind his overprotective feelings toward her; her uncanny resemblance to Apollonia Corleone. He reveals to Mary something he never told other members of his family, he was married before he married her mother. Mary is taken aback at first, but understanding somewhat when he realized he stayed faithful to his first wife and was widowed when he married her mother. He tells of Apollonia's death, and fears it could happen again. In an ironic twist of fate, his daughter is killed in a mob battle, which is what he hoped to prevent.
Behind the scenes
Mary is portrayed by Sofia Coppola, Francis Ford Coppola's daughter. Sofia's lack of acting ability is widely seen as one of the fatal flaws of the The Godfather Part III.[3] There were also accusations of nepotism, but originally a professional actress had been considered and she had been a last minute replacement. Rebecca Schaeffer, an actress who starred on the sitcom My Sister Sam had auditioned for the part of Mary, but died prior to filming, having been killed by an obsessive fan. Winona Ryder, who had doors opened for her due to the success of Beetlejuice two years earlier, was then cast as Mary. However, days before filming was set to begin she was hospitalized for exhaustion and had to withdraw. Sofia Coppola was then cast.
In the novel Michael and Kay's second child was a boy.
Gallery
Notes and references