Loddstone Studios was a film production company set up in the 1920s by Eli Marrion's grandfather. It was initially supposed to be named Lode Stone but a mistake by lawyers resulted in it being dubbed incorrectly. It cost ten thousand dollars to set up.
The studio became one of the pillars of the Hollywood industry and made countless stars, but also took advantage of naive individuals such as Ernest Vail, who was tricked into selling the rights to his book for a pittance.
Messalina
In the 1990s, under Eli Marrion, the studio began to embark on an epic production named Messalina, written by Claudia De Lena. However, the production began to suffer when lead actress Athena Aquitane continually backed out of shooting due to the intimidating behaviour of her ex-husband, Boz Skannet. The film was completed after Cross De Lena, Claudia's brother, eliminated Skannet in return for five percent of the profits and Athena returned to the set.
Soon after this, Eli Marrion fell ill and died of a heart attack. Bobby Bantz was chairman for a brief time, but when he attempted to cut Cross out of his percentage, he was arrested for statutory rape and Claudia became the new head of studio.
Under Claudia De Lena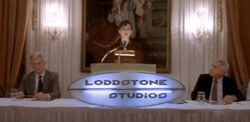 Claudia was able to make the Studio great again, and soon she made a star out of Austrian actor Dirk Von Schelburg, who was to star in action film The Fumigator, and who she later married. Around this time, Bantz made a play for power with the assistance of treacherous Clericuzio capo Billy De Angelo, getting Von Schelburg arrested for murder and planning to have Claudia died in a gas explosion. However, their plot was soon discovered and Bantz was thrown from his apartment window by actor Ivar Larson.
Community content is available under
CC-BY-SA
unless otherwise noted.