"Hey, this is my neighbourhood. You and your paisan must honor me."
―Joe Galtosino to Aldo Trapani
Joseph "Joe" Galtosino was a corrupt Italian-American police sergeant from Little Italy.
Biography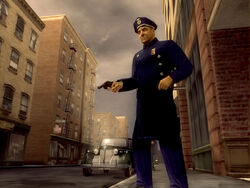 Known by the Corleone family as a corrupt drunk, Galtosino was known to take orders from Mark McCluskey and he works for Mark McCluskey, from whom he joined with a place on the Tattaglia family's payroll. He demanded a bribe from Aldo Trapani when the mobster took over Emilio Brunetti's butcher shop, which had formerly been run by Tattaglia gambler Frankie Fernetti.
He later stopped and nearly beat Trapani at the hospital Vito Corleone and Marty 'Monk' Malone were being treated at, but was distracted by Tom Hagen's arrival and ended up being forced to leave, threatening Galtosino with the promise of future repercussions.
"Accidental" death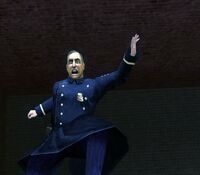 "Party's over, punk!"
―Joe Galtosino to Aldo Trapani
Galtosino later crashed Rosa Morelli's party at her flower shop, after being alerted to the existence of the party by Paulie Gatto, a rat in the Corleone family. Galtosino responded violently, attacking Aldo Trapani before taking Rosa in for 'questioning'. She managed to resist him, and Trapani threw the Sergeant from the roof as the clocks struck midnight for New Years Eve 1945. Rosa helped Trapani by giving him a bottle of alcohol to drop on Galtosino's head, making the situation appear to be nothing other than a drunken Galtosino who fell off.
Trivia
Galtosino's killer, Aldo Trapani, was killed exactly thirteen years from the date he killed Galtosino. Ironically the number thirteen is superstitiously considered in many cultures to be a symbol of bad luck and misfortune.
Community content is available under
CC-BY-SA
unless otherwise noted.