Gordon Willis was an American cinematographer, best known for his work on the The Godfather series.
Biography
Willis was born in Queens, New York, the son of a motion picture makeup artist. He is famed for his penchant at photographing in extremely dark conditions, an approach which earned him the nickname "The Prince of Darkness", a moniker attributed to him by his friend Conrad Hall.[1]
Another trademark is his preference for filming at the magic hour before twilight, when the sun is low and creates a golden glow. Willis created the trope of warm ambers to denote nostalgic glow for the past for the young Vito sequences of The Godfather Part II and many films since then have copied this cinematic technique when depicting pre-World War II America.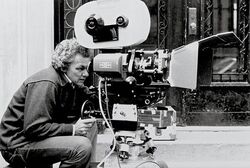 Willis had long failed to earn a single Academy Award nomination for his contributions to films which had received numerous other nominations. He eventually did receive two nominations, one for his inventive recreation of 1920s photography in Woody Allen's Zelig (1983), and one for The Godfather Part III (1990). In 2009, at the inaugural Governors Awards, the Academy chose Willis as the recipient of the Academy Honorary Award for his life's work.
He died on the 18th of May, 2014, aged 82.
Notes and references
External links
Community content is available under
CC-BY-SA
unless otherwise noted.