Jurassic World: Dominion Dominates Fandom Wikis - The Loop
Play Sound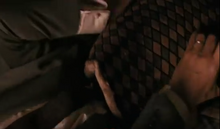 "It's not personal, it's only business. And you should know, Godfather."
―Frederick Keinszig
Frederick Keinszig was a Vatican banker and one of the trio who attempted to swindle the Corleone family.
Biography
Nicknamed "God's Banker", Keinszig is the Swiss chief accountant of the Vatican Bank. As such, he represents the Vatican on the board of International Immobiliare, a European real estate company in which the Church has a quarter interest and is transferred to the control of Michael Corleone. However, he is also part of a large conspiracy with Don Licio Lucchesi and Archbishop Gilday to scam Michael out of hundreds of millions of dollars and give it to persons holding positions of political power. The three accomplished this by constantly stalling the conclusion of the Immobiliare deal and harping on the ill health of Pope Paul VI, as the Pontiff's personal approval is necessary to finalize the transfer of the company to Corleone control.
Disappearance and death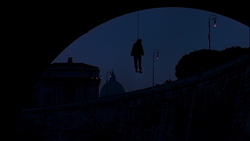 After the Pope's death, Cardinal Lamberto was elected the new Pontiff (he took the name John Paul I) and promptly requested a meeting with Keinszig to discuss reforms of the Vatican Bank. However, Keinszig mysteriously departed Rome, along with a large amount of money and several important documents. After Michael's nephew Vincent Corleone became the new Don, he ordered the deaths of Keinszig, Lucchesi, and the Archbishop in revenge for their swindling of his uncle. Accordingly, Vincent's dispatched assassins penetrated Keinszig's house and smothered him with a pillow as he lay on a bed. His corpse was subsequently hung from a bridge, in full view of the public.
Real life sources
Keinszig is based on Roberto Calvi, one of the real bankers involved in the Banco Ambrosiano scandal. Calvi was known to carry a copy of The Godfather around with him.[2] He was found hanging dead over Blackfriars Bridge in the 1980s.
Notes and references