Emilio's Butcher Shop was a business shop owned by Emilio Brunetti in Little Italy, New York City. It was also the location of a gambling racket run by Frankie Fernetti,
History
Emilio Brunetti used to run this family butcher shop in Little Italy and originally used to pay his protection money to the Corleones. He was later convinced to pay it to the Tattaglias instead and allow them to set up a gambling racket above his shop by the hustler Frankie "The Flush" Fernetti.
His gambling racket, known as "Harry's Bar", however was very disorganized and used the whole second floor to run. Emilio however could do little as the Tattaglias were the dominant family in Little Italy.
Change of allegiance
In 1945, the Corleone enforcer Luca Brasi instructed Aldo Trapani to take over the butcher's shop as a test for the young outsider. Trapani succeeded, and forced Emilio to start paying his protection money to the Corleones instead.
Emilio also directed him to the gambling racket upstairs and Aldo succeeded in making Frankie switch his allegiance to the Corleone. The corrupt police sergeant Joe Galtosino showed soon after, alerted to the trouble in the shop, and demanded a bribe from Aldo to which the latter agreed.
Aldo then handed part of the money he received to Luca. Later, following the attempted assassination of Vito Corleone, Mikey Saleri attempted to take back the butchers for the Tattaglias, but he was foiled and killed by Trapani in the back alley.
Missions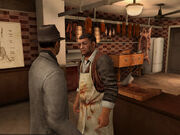 Community content is available under
CC-BY-SA
unless otherwise noted.