Eli Marrion was the Chairman of Loddstone Studios in Hollywood.
Biography
Born in 1910, Marrion's grandfather was the founder of Loddstone Studios, a production company that was founded in the Twenties, which eventually became a sprawling business empire.
By the 1990s, most of the management at Loddstone was left to producers Bobby Bantz and Skippy Deere, leaving Marrion to enjoy the finer things in life. Despite this, he remained the company's majority shareholder. Both of his children, Kevin and Dora, became involved in the film business.
By the age of eighty, he began to suffer from heart problems, but refused to accept a new heart for transplant.
Messalina
The last major production Marrion saw completed was Messalina, a feminist picture concering Messalina, wife of Emperor Claudius. The screenplay was written by Marrion's former lover Claudia De Lena, who saw screen legend Athena Aquitane in the lead role. However, Aquitane refused to show up for work due to intimidation from her ex-husband Boz Skannet, which risked almost fifty-million dollars of LoddStone's money.
Desperate, Marrion and Loddstone accepted Cross De Lena's offer to buy the film and the distribution rights. Shortly after, Skannet was found dead and production continued uninterrupted, despite Bobby Bantz's attempts to scam De Lena out of his money. At this time, Marrion was also involved with negotiating the novelisation of Ernest Vail's book, which resulted in the author taking his own life in order to provide insurance money for his family.
Death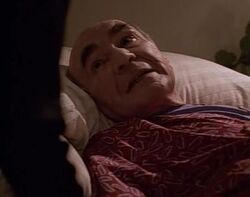 Shortly after this, Marrion died of a heart attack in a major Los Angeles hospital, fantasizing about the legacy he left behind. His funeral was attended by hundreds, including the Chief of Staff at the White House.
Behind the scenes
Real life sources
Community content is available under
CC-BY-SA
unless otherwise noted.