"Family is very important to me. I'm a married man. Your family, is my family."
―Dirk Von Schelburg
Dirk Von Schelburg was the husband of the Loddstone Studios CEO, Claudia De Lena
Early Career
Dirk Von Schelburg began as a young European actor, working at Loddstone Studios. Sometime in 1998, he met Claudia De Lena, the new CEO of the studio, they developed a large relationship, and they wanted to get married. They got their blessing from Don Domenico Clericuzio, who died shortly after. After the deaths of Petie Clericuzio, and Athena Aquitane, Cross De Lena returned to the Clericuzio family business, and a few days later, Dirk and Claudia were married.
After their wedding, Dirk started filming scenes for The Fumigator, a Loddstone Studios film, however, after filming, he would usually sleep with several women, and cheat on Claudia. The Clericizio knew of this, Cross then sent Clericuzio hitman Lia Vazzi to "visit" him, Vazzi found Dirk in a bed with another woman, he pulled out a gun and started shooting the floor, Dirk said that he loved Claudia, and that he wouldn't sleep with another woman again. However, this was not the case.
Conviction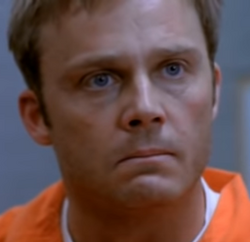 After re-shooting a scene, the actress starring with Dirk left, accusing him of despising beautiful women. He didn't think much of it, as he was talking to two girls. Not long after, they went to a hotel, and Claudia phoned Dirk, and they started talking about the film, soon after he hung up, and slept with the girls. When he woke up, he found blood on his hands, and realised that the girls were stabbed to death, he started screaming for help, he was later convicted of murder. When Cross and Claudia went to visit him, he started crying, Cross said that he never liked him, and Claudia divorced him.
This was all part of the plan of Clericuzio caporegime, Billy De Angelo, and former Loddstone CEO, Bobby Bantz, Bantz wanted to ruin Claudia's image, and return as Chairman, however, he and De Angelo were later executed by the Clericuzios, and Dirk was let out of prison, but he and Claudia never spoke to each other again after that. His reputation ruined, it is unknown what happened to him afterwards.
Trivia
Community content is available under
CC-BY-SA
unless otherwise noted.