The Barzini compound (often referred to as The Palace) was built after Emilio Barzini, Sr. visited Jack Woltz's mansion in Los Angeles. As well as appearing attractive, it was also considered virtually impregnable.
However, the compound was breached by Aldo Trapani in 1955, when the Barzini family had been crippled by the loss of most of their family members.
Behind the scenes
Edit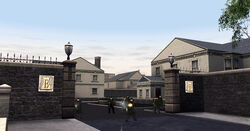 In the original version of The Godfather: The Game, all the compounds resembled each other, and a bomb had to be placed in the basement to take them over. In the update, the second building could be conquered by blowing up Don Barzini's bedroom on the first floor.
History:
Edit
One of the biggest challenges that you'll face is an assault on the Barzini Compound. Although the road into the place is short, the Family has some keen and cunning hit men ready to repel your attacks. This is the toughest building you'll ever tackle.
Community content is available under
CC-BY-SA
unless otherwise noted.