"That's Anthony Squigliaro. They call him the Ant. He dips his bullets in cyanide."
Anthony "The Ant" Squigliaro was one of Joey Zasa's most efficient enforcers.
Biography
"I told you, get the fuck outta here before I break your fucking jaw, you son-of-a-bitch!"
―Anthony Squigliaro to Lou Pennino
A very rough Corleone Caporegime, Known as Joey Zasa's 'bulldog', personal bodyguard and hitman. Anthony Squigliaro, known as 'The Ant', was notorious for dipping his bullets in cyanide before embarking on a hit. He followed his boss around at all occasions, appearing in Michael Corleone's apartment, during the party after Michael received papal honours. was with Zasa during a parade through Little Italy, where Zasa was raffling off a car. Squigliaro got into a fight with Lou Pennino who was damaging the vehicle, but a hitman, disguised as one of the bearers of the Virgin Mary, pulled out a lupara and shot him. Zasa died shortly after, at the hands of Vincent Mancini.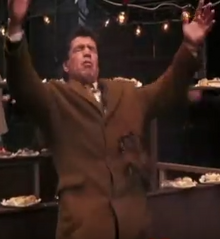 Real life sources
Anthony Squigliaro could be based on Salvatore Gravano, also known as "Sammy the Bull", who was an underboss of the Gambino crime family. He too followed his boss John Gotti on occasions just like Anthony and Joey Zasa. Another possibility is that he could have been based off Chicago Outfit enforcer Anthony Spilotro, who was also nicknamed "The Ant". Spilotro had been the defender and childhood friend of Las Vegas handicapper Frank Rosenthal, who was endorsed by the Chicago Outfit. Spilotro had a falling out with the Chicago bosses then disappeared, and it was rumored for years he had been eliminated. The 2005 discovery of a corpse in a Missouri basement confirmed this when it matched Spilotro's dental records. The character Nicky Santoro from the film Casino is based on Anthony "the Ant" Spilotro.
Notes and references
Community content is available under
CC-BY-SA
unless otherwise noted.